Product Reviews
Feeding Baby
What's the best bottle for baby? How about the best bottle warmer or sterilizer? This section gives you the answers. Under the Brand Reviews, you'll find some manufacturers have asterisks (*) by their names. These are manufacturers who also make glass bottles along with plastic.
Bottles
Good. First Years offers an interesting option to parents looking for a good bottle to help with the transition between bottle and breast. Their Breastflow bottles have a unique double nipple that forces baby to use both suction and compression—just like at mother's breast. Price: about $4 per 5 oz. bottle (sold as part of a three-pack for $11). While feedback from parents is mostly positive, some thought the double nipple design was hard to clean and using them required practice.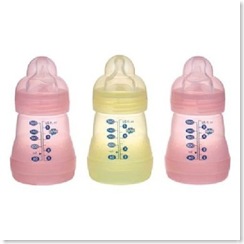 Better. MAM bottles may be popular for their soft silicone nipples and attractive design, but we just love the way they clean. You can unscrew the bottom of the bottle as well as the top, making it so easy to really get the bottle clean. The bottles are also microwave safe and BPA free. MAM makes an anti-colic bottle ($13 for a two pack) and a regular bottle ($23 for three-pack).
Best. Tied for first place in the bottle battle are Avent and Dr. Brown's. It's a real toss up as to which is best with our readers evenly split. Avent gets a nod for its well-designed nipple, which is clinically proven to reduce colic (uncontrollable, extended crying that starts in some babies around one month of age). Ditto for Dr. Brown's Natural Flow bottle (handi-craft.com), which has a patented vent system that eliminates bubbles and nipple collapse. Avent and Dr. Brown's are pricey, however—they cost about $5 to $8 a bottle. That compares to $3 to $4 for other bottles from makers like Evenflo.
Best Glass Bottle. Nobody beats Evenflo's glass bottles. They are very affordable, available in several sizes and quantities and the best choice for folks who don't want plastic. Prices range from $2 to $3.50 per bottle. The more expensive versions have elasticized plastic sleeve to help avoid breakage if dropped.
Up & Comer. Comotomo Natural Feel baby bottles are fast becoming a favorite for breastfeeding moms who want to give baby an occasional bottle. Made of soft, flexible silicon, they come with a double vented nipple for $13 to $15 each. Pros: easy to clean, lightweight and grippy. Cons: nipple can collapse meaning you'll have to stop, unscrew the cap, then re-screw it during feedings. Also, they're expensive. But feedback is very positive.
One quick note: in most cases, bottles and nipples aren't interchangeable. You can't use an Avent nipple on a Gerber bottle and so on. The exception: Dr. Brown's nipples DO fit on Evenflo's glass bottles (see above), report our readers—a bit of trimming on the vent tube is required.
Bottle Warmers & Sterilizers
Do you need to sterilize bottles every time you use them? Or boil water for formula? Or use bottled water?
The answers are no, no and yes.
There's no need to sterilize baby bottles every time you use them—yes, run them through the dishwasher when you first open the package. But you can clean bottles with warm, soapy water thereafter (or use the dishwasher again).
There's also no need to boil water for formula. That's because most tap water in the U.S. is treated and is safe to drink. However, the standard recommendation today is to use bottled water to mix with formula—we have a full discussion of this in our other book, Baby 411.
As for the temperature of a bottle of formula, room temperature is fine—bottles neither need to be heated nor cooled.
The take-home message: bottle warmers and sterilizers are purely optional. Since we realize some readers still want to purchase these items, here are our recommendations:
Avent wins the sterilizer war with their Express II Microwave Steam Sterilizer. This model (pictured) holds up to six Avent bottles or two Avent Breast Pumps and two bottles for $23. If you prefer a plug in sterilizer, the 3-in-1 Electric Steam Sterilizer sterilizes six bottles in six minutes and keeps bottles sterile for up to 24 hours. Like the microwave version, it can also sterilize up to two breast pumps. Cost: $53.
While Avent makes a good sterilizer, we would suggest getting the matching sterilizer for your bottle brand. For example, if you decide to use Born Free bottles, then the Born Free Tru-Clean Bottle Sterilizing System ($63) is a good bet. Why? Sterilizers for one brand can sometimes damage other brand's bottles—for example, we did receive a report that Medela's Quick Clean Micro-Steam bags can melt Born Free bottles.
What about bottle warmers? Avent makes a good one: the Bottle Warmer Fast ($36), which warms a room temperature bottle in about four minutes. It fits baby food jars and all types of baby bottles (not just Avent).
New to the bottle warmer market is the Kiinde Kozii Breast Milk & Bottle Warmer ($70). This warmer accepts frozen breast milk storage bags, liner bottles, plastic bottles, glass bottles and even food containers—any type, any brand. Kiinde's SAFEHeat technology consists of a "circulating bath of warm water" to heat a bottle. Since the water is about room temperature, Kiinde claims to prevents hot spots and allays concerns that boiling water can cause chemicals like BPA to leach out of older bottles. A timer and automatic shutoff means it won't overheat and the water reservoir does not require parents to add water each time it's used.
Feedback on the Kiinde is positive. Most folks like the warmer, despite the price tag. A few dissenters note the Kiinde requires regular maintenance (you have to clean the water scale out periodically). And we heard one or two reports of the warmer breaking after just 8 or 10 weeks. We'd like to see the company step up its customer service on these issues—more than one parent who had a problem said the company wasn't helpful in solving the issue.
What's the best bottle for baby? Actually, it's more than just the bottle. The nipple (how the milk is delivered to baby) is just as important as the container.
When it comes to nipples, there are a myriad of choices. Your first decision will be the shape of the nipple. They come in orthodontic (bulb shaped), flat-topped or original (bell shaped). See graphics below. Experts tell us that the bell shaped nipple seems to work best for breast fed babies who are either taking an occasional bottle or permanently transitioning from breast to bottle. Most nipples are made of latex or silicone. We rec-ommend silicone. They last longer, don't have any flavor, are heat resistant and may resist bacteria better than latex. Latex can be allergenic as well.
Orthodontic
Flat topped
Bell shaped
Finally, nipples have different flow levels. If you are starting immediately with bottle feeding, begin with a low flow nipple so your baby doesn't become over-whelmed with formula and gag. This is also a good idea for parents who are giving an occasional bottle to a breast fed baby—it forces your baby to work harder,more like when breastfeeding. As baby grows, you may need to buy a faster flow nipple.
What about the bottle itself? After the government issued a report in 2008 that questioned the safety of a chemical (Bisphenol-A or BPA) used in polycarbonate bottles, manufacturers began making BPA-free bottles. So, pretty much all the new bottles on the shelves today are BPA-free. (We've posted a Q&A about BPA on our web site BabyBargains.com, click on Bonus Material). Some parents prefer glass bottles since they have always been a safe, chemical free option.
Of course, there may be older baby bottles still on the back of some store shelves—a word to the wise: make sure the pack- age says BPA-free before buying any bottle, breast pump or sippy cup. And if a friend offers you her old baby bottles, we say politely decline. You likely wouldn't be able to tell if they had BPA or not.
Smart Shopper Tip #1
Bottle confusion?
"How many bottles will I need if I formula feed? What nipple sizes do I need? Do I need a bottle sterilizer?"
Yes, the questions about bottles and feeding baby can be rather endless! To help, on our web site, we've posted a great email from a mom who's been there, done that. This email actually appeared first as a thread on our message boards, but we thought it was the most comprehensive discussion of bottle-feeding we've ever seen. Since it is eight pages long, however, we didn't have room to reprint it here. Go to Babybargains.com/Bonus to read it.
Smart Shopper Tip #2
Getting started
"I think I'm going to bottle feed for at least some of the time, but I don't want to spend a fortune on bottles. What should I buy?"
Consider getting a starter kit from one or two of our top rec- ommended bottle makers (see Our Picks below). Starter kits usually include a selection of bottle sizes, slow flow nipples and bottle caps. They may also have accessories like a bottle brush included. Prices range from $15 to $60 depending on brand and number of items included.
Smart Shopper Tip #3
Leaks
"It seems no matter what bottle I consider, the reviews complain that it leaks. From expensive to cheap, they all have leaking problems. What gives?
We've noticed ourselves that many different bottle types have some complaints that they leak. Often, the leaking occurs when parents over tighten the bottle. There is a sweet spot with baby bottles where the gasket and valves work together in perfect harmony. If you discover you're having leak problems, don't throw out the bottles. Check the manufacturer's web site for tips on assembling the bottle. One example: Avent shows a graphic of what the bottle should look like when it is screwed on properly here.
Bottle Brand Reviews (A-L)
Bottle Brand Reviews (M-Z)
BB Rating
What's This?
A
A EXCELLENT-our top pick!
B GOOD-above average quality, prices, and creativity.
C FAIR-could stand some improvement.
D POOR-yuck! Could stand some major improvement.